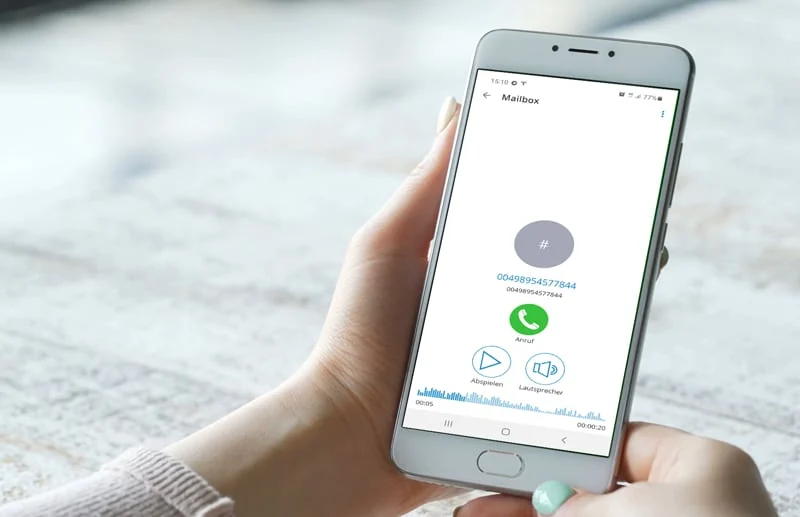 Why do you actually need an answering machine (or, depending on your preference, a voicemail, voicemail box or just the mailbox)? Well, because answering machine announcements reduce your callers' immediate disappointment at not being able to reach you in person. By still helping your callers - or at least informing them about the next steps until you are available again.
As a rule, answering machines are used when you do not have time to answer calls yourself. If there is no possibility of forwarding to a call center or an antechamber, the voice mailbox offers a simple technical solution to this problem.
It is important, especially in a professional environment, to be aware that callers have expectations when they pick up the phone and call you. Be it a new sales request, a request for advice or for service issues - your callers want to be able to actively reach someone and address their concerns directly. If nobody can be reached, disappointment automatically arises - and for you, if necessary, a missed opportunity.
Companies spend a lot of money on opportunities - on marketing, sales, building high-quality websites, etc inbound-Create channels. Everything is aimed at bringing interested parties and customers to you as quickly as possible in order to provide real service or generate new business.
For this reason, no call must be lost. It is clear that you cannot always be available. This also applies, for example, when you are on the phone – but then someone has to stand in for you. If that can't be a person, then at least the machine - with an answering machine announcement that asks your callers to leave a voice message.
Mistakes that you should avoid with answering machine announcements
How should an answering machine be set up and discussed? Best: sympathetic, concise, but substantial. This also applies to answering machine announcements during the Christmas holidays or outside of business hours. Long, monotonous sentences do not leave the desired positive impression: that although you cannot be reached at the moment, the call is nevertheless important to you. It should also be clear that you will take care of it quickly and call back.
Sentences like "Unfortunately we are not available at the moment. Please leave a message after the tone" are impersonal and do not leave the best impression on callers who have concerns about you and your company. Prayer wheel-like enumeration of operating times, perhaps even with the announcement of different lunch breaks on different days, only creates confusion and has a rather dismissive effect.
It gets even worse for you when you're on the phone, so your line is busy and callers end up on your answering machine. Where they then find out that you are not there. If these are new customer inquiries, that may have been it for you.
Now you could say: yes, but I have the number on the display. That's right, but can you then also prepare for the recall? Have you already heard the voice of the customer and can you better assess their mood in advance? Or can you possibly already do something and come up with a concrete answer when you call back or even present a solution?
You can test modern cloud telephony with bluePBX for 14 days free of charge.
Step by step to the perfect answering machine text
First, go through the following questions:
How do you want the caller to perceive your company?
What service do you offer?
What might the caller want from you?
What expectations does the caller have of you or your company?
When do you do callbacks?
What other contact options are there?
What solution do you offer for emergencies?
Be sure to write down your phone message. It is best to do this digitally, for example in Word. This way you can easily optimize your text later.
Start with a handful of introductory words, such as "It's..." or "Welcome to...", "Thank you for calling...", "Nice of you to call me...". Never give the company name or your name in the first 2 seconds of the answering machine message. As a rule, these 2 seconds are not technically transmitted (connection establishment) or are only perceived poorly or not at all by the human ear. However, you want your callers to clearly understand whom or which company they have reached - therefore only unimportant information may be included in the first 2 seconds.
Now try to comfort the customer by offering to call him back as soon as possible, if possible with a time frame, but at least with "as soon as possible" - but please only if you can really do it.
Tell callers exactly what you need from them so you can call back. A name, phone number and the nature of the concern is the minimum they should provide. You can also ask for a company name and a specific request - this is only to your advantage.
Pack your request for information in a friendly way and show your callers that you take every call seriously. Speak the answering machine text with a smile and try to raise your pitch a little - deep voices are less well understood than brighter voices.
Try to limit your answering machine announcements to a maximum of 30 seconds. Since the beep signals the caller that the recording has started, it should sound with a slight delay of approx. 1 second and not immediately after the last syllable of your text. So please pause before you end the recording.
Examples of professional answering machine announcements
So what could a professional and effective AB message be if you are actually unavailable but would like to offer a call back as soon as possible?
Example personal telephone announcement under your extension
"Hello, you are connected to the mailbox of first name, last name of (company). I am unable to take your call personally at this time. If you leave me a message after the beep, I'll call you back as soon as possible. Please also state your name and callback number. Thank you and have a nice day."
Sample answering machine message for after-hours
"Hello and welcome to (company). You call outside of our service hours / business hours. You can reach us personally Monday to Thursday from (time) to (time) and Friday from (time) to (time). You are welcome to send us an email to (email address) or leave us a message with your request including your callback number after the beep. We will reliably get back to you. Thank you and goodbye."
Example AM announcement with additional options
"Hello, you are connected to the mailbox of first name, last name of (company). I am unable to take your call personally at this time. If you would like to be connected to our switchboard, please press the 0 (zero) button now or leave me a personal message after the signal tone. I'll call you back as soon as possible. Please also state your name and callback number. Thank you and have a nice day."
Example answering machine text when the line is busy
"Hello, you are connected to the mailbox of first name, last name from (company) because I am currently on a call. If you leave me a message after the beep, I'll call you back when I'm free. Please also state your name and callback number. Thank you and see you soon."
The last two options for answering machine announcements must of course be technically supported by your telephone system. This is the case with the bluePBX cloud telephone system.
The two most important parts of a professional answering machine
Professional answering machines have two components:
A voice announcement that is as professional as possible
Technical precautions so that the recording reaches you quickly and you can react or the caller can actively select further options
You can record your announcements for the answering machine yourself or book a professional voice over from a recording studio. That is ultimately a matter of taste. We would be happy to recommend long-standing partners who have a particularly good price-performance ratio. The answering machine greeting may be the first thing callers hear and perceive about your business - it's the voice of your business.
If you are discussing the text in the "I" form, the announcement must come from you. Otherwise, our recommendation is to hire a professional voice actor. If you record answering machine announcements yourself, it takes a little practice.
Our telephone system bluePBX enables the import of audio files. This allows you to record the answering machine announcements several times with a recording program on the PC and a microphone and then select the best one. A possible post-processing and evaluation of the recording quality can be carried out by the bluePBX team, as can the import into the system. Of course, the answering machine can also be used as usual via the telephone or via a softphone be discussed on the PC or mobile phone.
The cloud telephone system bluePBX offers you even more advantages
If someone speaks to you on the AB, the telephone system will inform you by e-mail. The recording can also be included in this e-mail as an audio file attachment. You can also listen to the recording on the go.
Another exciting feature is the answering machine announcement when your line is busy. bluePBX can play a separate busy announcement when it is "busy". This allows you to signal to callers that you can call them back much more quickly since you are immediately available again after your current call.
Our function of optionally transferring callers to a company headquarters or other employees who can represent you or take inquiries on your behalf is becoming increasingly popular. Even if there is no recording in this case, the goal has been reached, which is always best for a caller: a human being.
You can test modern cloud telephony with bluePBX for 14 days free of charge.